Bartels Lutheran Retirement Community, Waverly, recently recognized nine employees through the Grateful Residents and Families program including Vickie Chesnut, Janet Waidelich, Randi Hoerman, Rachell Lugg, Kristinia Kielman, Katie Mahler, DeeAnn Christophersen, Angie Daniels and Don Gilbert. They each received a gift of appreciation for going above and beyond and making a difference.
Bartels residents, their families or co-workers can honor staff members by making a charitable donation to Bartels in honor of the exceptional nurse, C.N.A., housekeeper, maintenance worker, dining services, leisure services, or other Bartels team member. The donors remain anonymous to ensure residents' and families' privacy.
"Residents and families often express a desire to show gratitude for the hard work and dedication of our staff," commented Angie Daniels, Marketing and Development Coordinator. "We're happy to offer this program and give residents and families a way to partner in our mission of enriching lives through quality services and Christian care."
Anyone interested in learning more about the program is encouraged to call 319-352-4540 and ask for Angie Daniels or visit the website at bartelscommunity.org/giving/.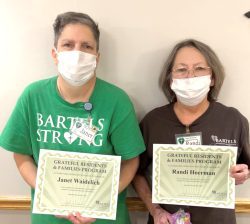 Categorised in: Uncategorized