Jenn Hansen, RN, at Bartels Lutheran Retirement Community was recently recognized for demonstrating Bartels' set of HEART values­ – Honesty, Empathy, Accountability, Respect and Teamwork over the past three months. She was nominated by her co-worker, Brooke Holmes, RN and Assistant Director of Nursing, and Hansen was the winner of the Bartels HEART card drawing at the end of the first quarter for a $50 gift card.
The set of values was selected by Bartels staff in 2020. Team leaders and staff members are encouraged to recognize co-workers with a Bartels HEART card when they go above and beyond and demonstrate at least one of the Bartels' HEART values. These HEART cards can then be exchanged for a treat or small gift and then all of the cards go into a drawing for a $50 gift card at the end of each quarter. Jennifer's name was drawn out of 63 Bartels HEART cards submitted.
Holmes stated, "Jennifer Hansen is amazing. She goes above and beyond to help the residents. Jenn is willing to float floors, work with varied residents and staff. She is very selfless and strives to ensure she is supporting her team members. We can always count on her to do the right thing and to show up for her shifts."
Bartels Director of Nursing Amanda Dobbs added, "Jenn is someone we can always count on.  She goes above and beyond for all of our residents and her co-workers to make sure that the best care possible is being provided.  She is an amazing nurse who is always willing to work anywhere with anyone, flexible with her hours, and is always open to learning new things!  She is one of the best and Bartels is so lucky to have her!"
Veronica Shea, Bartels Administrator chimed in, "Jenn is incredibly kind to everyone she encounters during her day.  She is patient and always willing to help her co-workers, residents and families.  Jenn is approachable, encouraging and a great advocate for the residents."
Bartels CEO Paula Geise praised Jennifer's work ethic and remarked, "Jenn Hansen is a team player and flexible.  She is kind, considerate and has developed an amazing talent for working with those with dementia. I first got to know Jenn in the Covid unit and now on first and second floor. She is very reassuring to the families and has built a trust with them and the residents."
Jenn has worked at Bartels for 3 years in nursing and 5 years total. She explained she loves the residents at Bartels and appreciates the excellent support received from staff and administration.
The recognition of staff for showing their Bartels HEART will continue and the next drawing will take place at the end of June. "Many of the staff feel so appreciated when receiving a Bartels HEART card and for being recognized for their hard work and dedication," commented Marketing and Development Coordinator Angie Daniels. "Showing gratitude is important in our lives, and essential in these challenging times. Jennifer, as well as all of the staff members who received a Bartels HEART card, are very deserving of this recognition. It is great to work with a team who shares these values and strives to carry out Bartels resident-first philosophy and mission, 'Enriching lives through quality services and Christian care.'"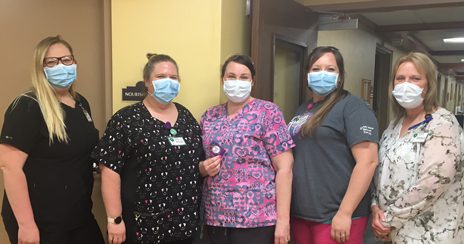 Jenn Hansen (center) is all smiles following her recognition as a Bartels HEART card recipient for demonstrating Bartels' HEART values and receiving a $50 gift card. Congratulating Jenn on her excellent service to Bartels are Director of Nursing Amanda Dobbs (left), Assistant Director of Nursing Brooke Holmes, Assistant Director of Nursing Sheena Blanchard and Administrator Veronica Shea.
Categorised in: News Articles