Dorothy Hertel, 97, is a current resident of Linden Place Assisted Living (a part of Bartels Lutheran Retirement Community), Waverly, and has a family legacy with three generations calling Bartels home.
Her grandmother, Frieda Droste, resided at Bartels in the original house and is pictured in one of the early photos from 1963. Dorothy fondly remembers visiting many times and playing Chinese checkers with her grandma.
Arthur Droste, Dorothy's father, and his second wife, Elizabeth, also lived at Bartels in the 5th Addition (now Woodland Terrace) during the late 1980s and 90s. She explained her father lived to be 100 and there is still a tree in his honor providing shade on the Linden Place patio. The tree was planted and dedicated to him on his 90th birthday. "It's nice I can still enjoy the tree and I can even look out the window at the end of the hall and see the area where he lived," Dorothy commented.
With the long tradition of excellence and care she witnessed at Bartels over the years, she didn't hesitate to follow suit and moved into Bartels' independent living apartments, Eichhorn Haus, several years ago.
"I couldn't be at home anymore," she explained. "There were just some things I couldn't do anymore. I had been using Bartels At Home, but I couldn't get out and needed to be around people."
When Dorothy needed more assistance, the continuum of care offered by Bartels provided her the next step and she moved to Linden Place Assisted Living. She now receives three meals a day instead of one and some additional help.
"Now there's no cooking, no dishes…I love it!" Dorothy added excitedly. "The Bartels staff and Linden Place staff are so kind, so attentive, so helpful. The grounds are attractive with a nice trail. I like to walk outside, enjoy the gazebos, benches and flowers. I am thankful to be here and enjoy all the people here."
Along with the people and beautiful campus, she enjoys the activities, especially Bible study and worship services. "I have enjoyed all of the pastors here…Tomlinson, Bidne, Mike Blair. Bartels is truly Christian-based and understands the importance of faith," Dorothy stated. "I appreciated Pastor Mike Blair going to the extra effort of holding some sort of church services during this pandemic. He would go to each floor of Linden Place and give a sermon from the hallway with a sound system. He tried so hard during this difficult time, it took a lot of effort and it was appreciated."
Dorothy is a life-long resident of Waverly, except for 9-10 months during World War II and has always been active. She was born the middle child of Arthur and Marion Droste and grew up attending St. Paul's Lutheran School. She graduated high school in 1941, worked as a ticket taker for the two theaters in downtown Waverly and then at Lutheran Mutual in the filing department and quickly advanced to the position of secretary to the president.
In the fall of 1944, during WWII, there was a public request by the Civil Service for people to work in Washington D.C. Dorothy passed the exams and worked in D.C. as a secretary in the Navy Department. As her mother's health failed, she returned home to Waverly to help. After her mother's death, she enrolled in classes at Wartburg and met her future husband, Dr. Elmer Hertel, head of the biology department. The couple married and had three children, Gary, Diane and Janet.
The family years were busy with church committees at St. Paul's, community service on the Bartels board, Wartburg Women's Club and P.E.O. In her free time, she enjoyed golf and traveling. Along with the three generations at Bartels, the family has proudly had four generations attend St. Paul's school, including Dorothy's father, herself and her two siblings, her three children and her son's two children.
Her husband Elmer passed away in 1981 and her youngest daughter died in 2018. She has leaned on her faith during the tough times and counts her blessings every day. "We don't know God's plan, so we must have faith," Dorothy advised.
Dorothy is definitely a people person and remains active at the age of 97 thanks to the community support around her at Bartels. "It is so nice not being alone and having people around. I need to be around people," she reflected. "I am thankful to Bartels for the thoughtful and caring service to us."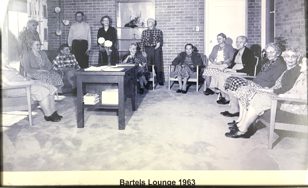 Categorised in: News Articles