Bartels Lutheran Retirement Community, Waverly, recently purchased a Zoll AED for the Eisenach Village Klubhaus thanks to a generous donation from Mike and Marge McCoy.
The Klubhaus is the central hub for 92 homes at Eisenach Village and hosts many events, both large and small. The idea for the addition of an AED was first brought up following the events playing out in front of millions on the football field as Damar Hamlin's life was saved.
Eisenach Village residents and Bartels administration recognized the need and McCoys quickly stepped up and volunteered to donate to cover the cost of the AED. "We are so thankful for the support and generosity of Eisenach Village residents Mike and Marge McCoy," stated CEO Paula Geise. "They saw a need and didn't hesitate to make a difference. It's acts like this which help Bartels to carry out its mission, 'Enriching lives through quality services and Christian care.'"
To stay informed of activities and projects at Bartels, sign up for our emailed newsletter at bartelscommunity.org or follow our Facebook page. If you would like to make a difference, Donate HERE.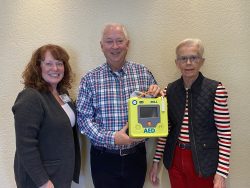 Bartels CEO Paula Geise (left) thanks Mike and Marge McCoy for the donation to purchase a Zoll AED for the Eisenach Village Klubhaus.
Categorised in: Uncategorized