Freedom, Security, Support
Evergreen Arbor is a spacious, nurturing home designed to give residents the freedom to safely explore on their own, join in familiar activities or relax at their leisure.
Our emphasis is on promoting an active, independent life-style, with supportive nursing care.
24-Hour Health Care
Evergreen Arbor is a licensed, dementia-specific program with an emphasis on each person's health, quality of life and well-being. Our care team members are attuned to the feelings, frustrations and behaviors persons with dementia display. We understand that anxiousness or agitation can signal an underlying health issue or unmet need which needs to be addressed.
The care team and health care services at Evergreen Arbor includes:
Registered nurse
Certified nurse aides
Social worker
Activity specialist
Music therapist
Dietary staff
Environmental services staff
Psychiatrist visits
Primary physician visits
Health assessments
Pharmacist reviews of all medications every 30 days
Free transportation to local medical appointments
Creative Activities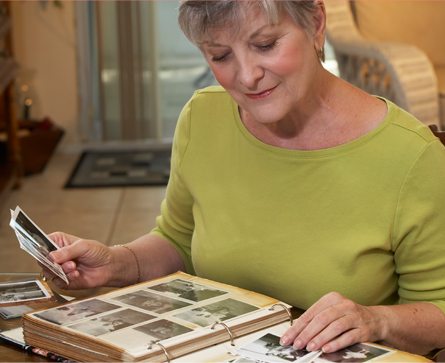 An activity specialist works full time in Evergreen Arbor coordinating stimulating activities adapted to meet individual skill levels and interests. Activities emphasize familiar tasks, such as cooking, exercising, storytelling and reminiscing. Our music therapist leads music activities with familiar songs, dance movements and rhythm sessions to stimulate the senses.
The Bartels chaplain leads Sunday morning worship services, weekly Bible story sessions at Evergreen Arbor and visits regularly with residents . Evergreen Arbor residents and their families are invited to join in community-wide events and special outings, such as rides in the country, birthday parties and special events.
Safe at Home
Evergreen Arbor has 22 private rooms, four semi-private rooms, and spacious common areas for dining and socializing. Family members are encouraged to decorate the resident room with familiar items from home—a favorite chair, family mementos and other accessories—to help the resident feel more comfortable and at ease.
Special features are found throughout Evergreen Arbor to enhance safety and independence for those with dementia and accommodate family visits:
Keypad exit security system
Large and small dining rooms
Carpeted indoor walking path
Safe serving kitchen
Personalized shadowbox at each room
Fireplace lounge
TV/activity lounge
Secured outdoor courtyards
Beauty Shop / Droste Ice Cream Den nearby
Memory Care Services
The Social Services Department assists residents in making the transition to their new home at Bartels. The social worker seeks resident and family input and works with other members of the health care team to develop a comprehensive plan of care for each resident, with measurable goals and treatments.

Laundry Service
Laundry services are available seven days a week. A laundry bag and identification card is provided for your convenience so we can properly label clothing items. We ask that you not bring in clothes that need to be dry cleaned or hand washed.
---

Dry Cleaning Service
A drop-off/pick-up site for dry cleaning is available by the Eichhorn Haus lobby. Deliveries and pick ups are made Mondays and Thursdays. Instructions are posted. This service is at the resident's expense.
---

Transportation
Bartels has a wheelchair-accessible bus and a mini-van to take residents on scheduled outings and to medical appointments. To avoid scheduling conflicts, please consult with the scheduling coordinator before making any appointments.
---

Beauty/Barber Shop
Full beauty shop and barber services are available at two locations to serve Bartels residents. Nursing staff can assist you in making an appointment. Gift certificates can be purchased at the Bartels front desk or at the beauty shop. The resident is responsible for payment.
---

Newspaper Delivery
Residents may subscribe to any newspaper, at their own expense. As a convenience to you, the three area papers listed in this section can be delivered directly to your door. You can subscribe to these newspapers; Waverly Democrat, Waterloo Courier or the Des Moines Register.
Admission Criteria
Admission to Evergreen Arbor is based on a diagnosis of dementia or Alzheimer's disease with a physician's order and pre-admission assessment of the individual's physical, mental, social and behavioral status. The pre-assessment is conducted by members of the care team free of charge.
Do you still have questions? Are you not sure if Memory Care at Evergreen Arbor is right for you or your loved one? Click here to contact us and one of our caring representatives will be in touch with you to answer any of your questions or concerns.